"Magnelis is a self-healing steel; if the material is scratched, a chemical reaction will automatically create a protective layer. At Vencomatic we use relatively many protective materials."

Bas Liebregts is Product Manager at Vencomatic Group, he emphasises the importance of using sustainable materials in products. Including Magnelis, but also other materials: "The better it needs to be protected, the thicker we make the layer. Through our years of experience with systems, we know what is needed in practice. We want our system to last."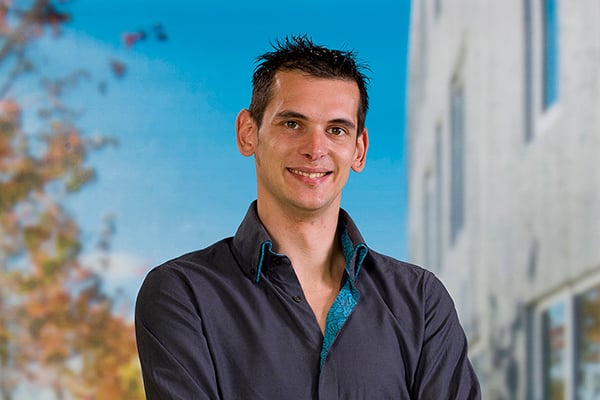 When is Magnelis applied?
"We adapt the choice of our materials to their use in the barn, to make the lifespan as long as possible. The legs of our systems are made of stainless steel, for example, because they come into greater contact with manure. But in the rest of the system there are also many parts that come into contact with manure or nails, which we also want to protect extra. So, together with our steel supplier, we looked at what works best for us."

"After an intensive research process, we arrived at the ideal composition of the top layer for our steel, Magnelis. Magnelis is a hard top layer that is highly resistant to nails and manure, as in the case of the slatted floor supports."
How does Magnelis work?
"In the infographic below, you can see on the left how Magnelis is composed, it is an alloy of aluminium, magnesium and zinc. The graph on the right shows how corrosion resistant different alloys are in a salt spray test, Magnelis clearly comes out on top. So we use that in important places in our products."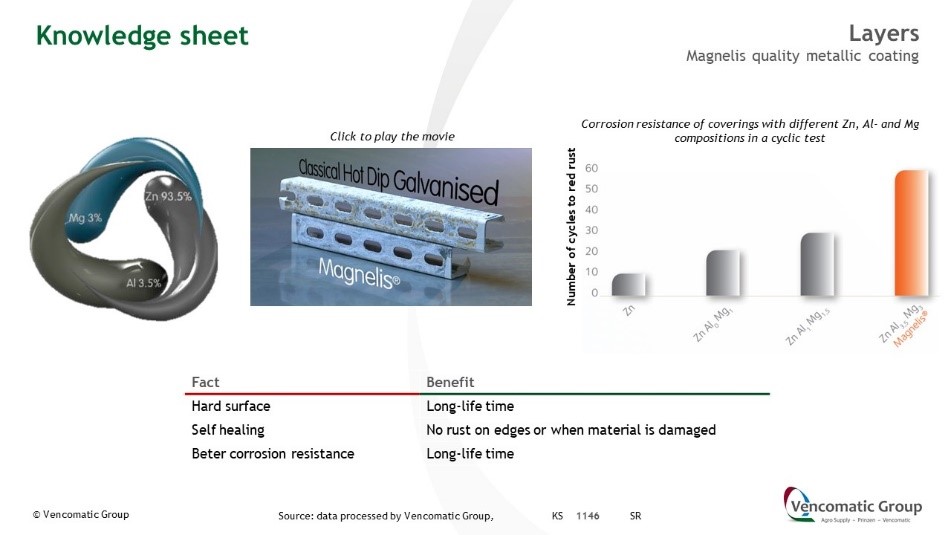 "In the table you can see that Magnelis, because it is self-healing, does not show rust spots when damaged or when we cut it. Then you iron out material on the unprotected cut side, thus protecting the bare piece."
So it's mainly about longevity?
"Right. We also use plastic in our products, for example, our air ducts on the outside are made of PVC. They regularly come into contact with manure, which does not affect the material. Our main concern is the durability of our products. Magnelis is significantly more expensive than standard galvanised material. We don't want to save every last euro at the expense of longevity, but we do want to deliver a sound and robust system."

"If you focus on maximum protection of your materials, they will remain more resistant to the influences in the barn. This is best for the customer and in the long run it is best for us too."