"In a traditional broiler production cycle, the downtime is short when working according to a fixed cycle of 7 or 9 weeks. Warming up the concrete floor is then a challenge before the start of the new cycle, for a good start of the chicks. Just like turning on the floor heating at home, it takes a long time before the floor is up to temperature. In our research, the eggs stayed colder and less equal in temperature just above the floor, so we had to heat and adjust more."
Freek Leijten is Product Manager, he researched the ideal height to hang hatching eggs in a house years ago: "When we started with our X-Treck, we noticed the importance of the height at which we placed the hatching eggs in the house for on-farm hatching. A number of environmental factors made the eggshell temperature too variable, which increased the so-called 'hatch window'."
How did you approach your research?
"We started experimenting with the height, for example by hanging the eggs not at a height of half a metre but at a height of a full metre, so that we had less influence from the cold radiation from the floor. The effect was that the eggshell temperature was 1.5 degrees higher. Winching has an advantage because heat rises. It is easier to get the house at 34 degrees at 1 metre height than at 20 cm from the floor. In addition, you have time on the first breeding day to heat the floor further, before the first chicks hatch."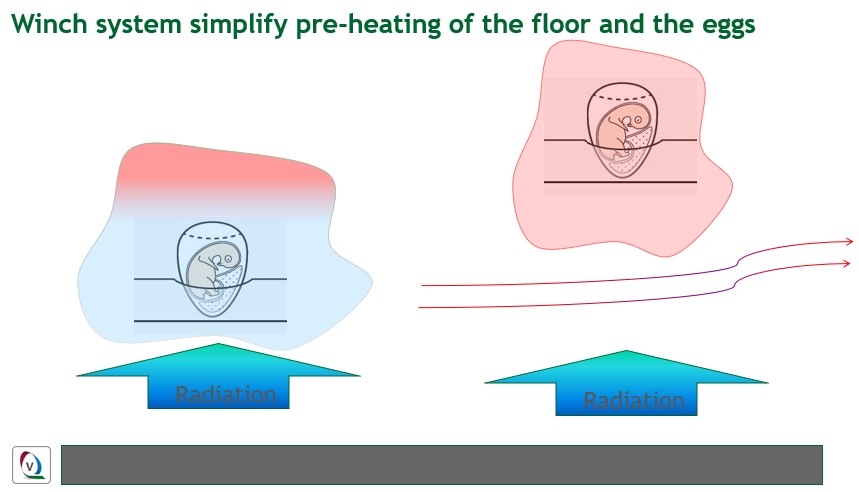 "By winching, we also get more air between the eggs and the floor, so the floor heats up faster. We advise to hang the eggs at a height of one meter, this is better for the newly hatched chicks because the floor is at the right temperature then (and for the eggshell temperature). In a house with underfloor heating this effect is considerably less and it works the other way round, too much heat from below can be adjusted by winching it up. When the chicks start to hatch, the X-Treck is lifted to the right height.
Have you been working on this for a long time?
"We have been researching this already in 2014, we started in the Patio and found out that the floor temperature was very important to give a good start to the just hatched chick. In the Patio, that temperature is always 30-33 degrees, as a polypropylene belt is used that almost takes the room temperature. However, in floor houses you almost never have floor heating, so you have to take other measures. Sometimes you even have to heat for two days to get the floor two degrees higher, at house temperature this goes a lot faster. So there is less time for on-farm hatching in downtime, thanks to our X-Treck you still have flexibility, also for unforeseen things."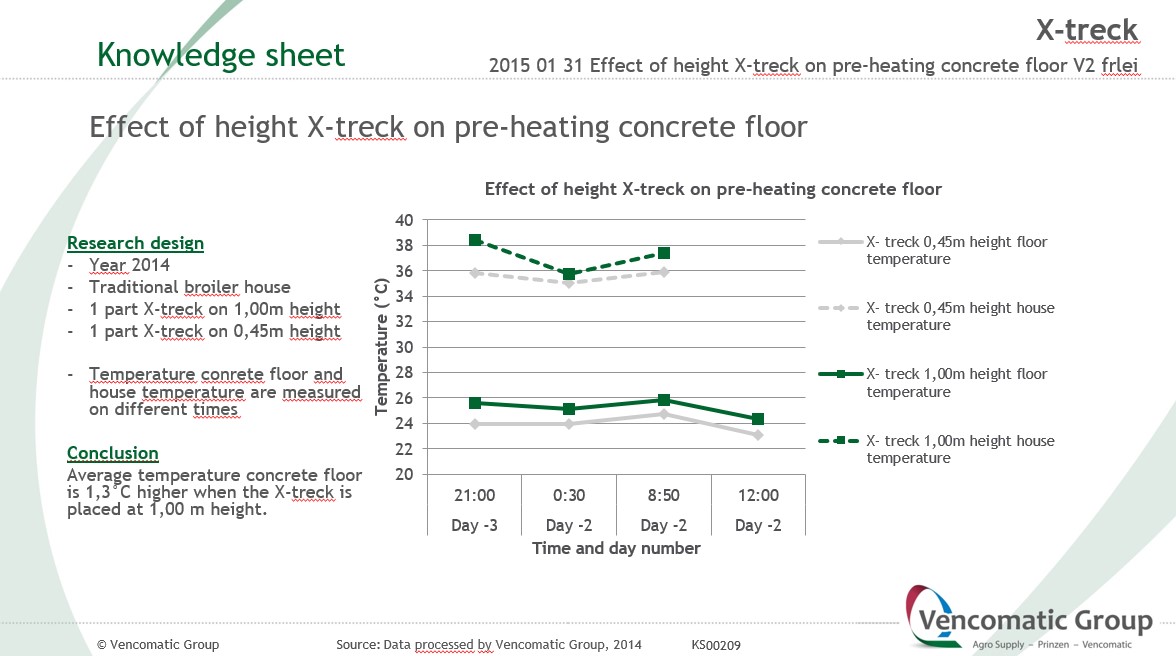 "Farmers with underfloor heating or a well-insulated floor hang the eggs immediately at hatching height, then winching to adjust is not necessary. If the eggs are too hot or too cold, you can winch them into another air layer. In this way, the farmer can search for the ideal hatching egg height, to adjust the eggshell temperature and to keep it as homogeneous as possible."