Visit O Avicultor and discover how we help you with your challenges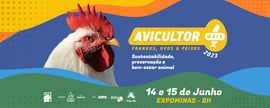 Let's meet at O Avicultor, and grab this opportunity to talk to our team of experts regarding any challenges across the entire "Egg way".

Discover more about:
- How to increase efficiency.
- Mechanical egg gathering.
- Hatchery automation in the egg receiving room.
- On farm hatching.
- Knowledgeable and reliable project management.
- How does a reliable export department look like?
- Possibilities in financing.

Come and see us and pre-book an appointment with Vencomatic Group experts.

See you in Belo Horizonte - MG, Brasil!

Visit the O Avicultor for more information.