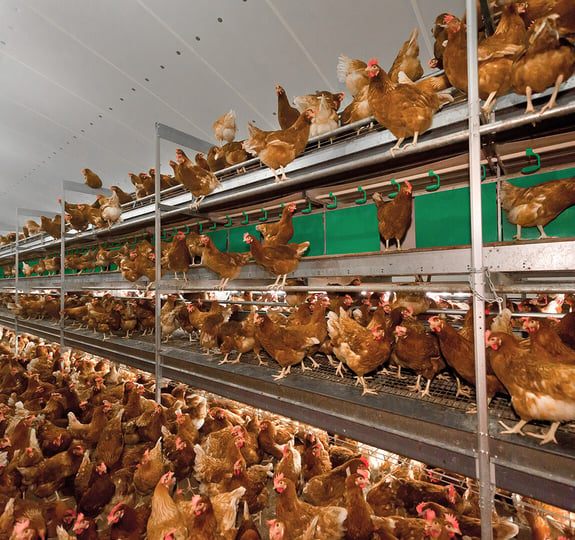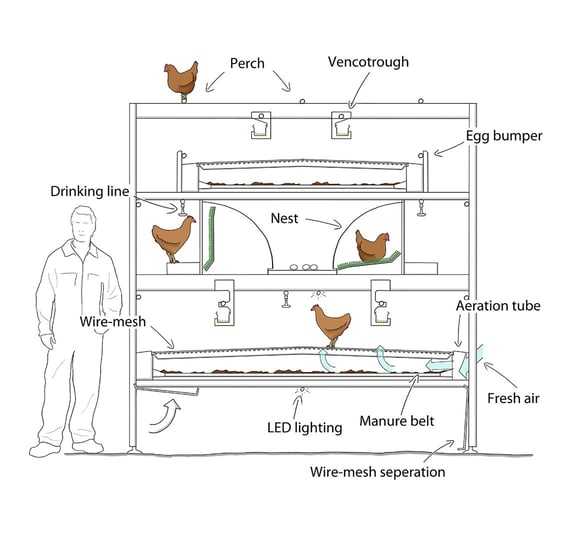 Layer housing solutions
Bolegg Terrace
Desde a sua introdução, mais de 25 milhões de aves foram alojados no Bolegg Terrace, expressando o grande sucesso deste sistema aviário. O Bolegg Terrace é projetado como uma árvore.
Descarregar especificação
Sistema aberto
Nenhum outro sistema é tão aberto como o Bolegg Terrace. O posicionamento inteligente das hastes, facilita o movimento vertical sem qualquer obstáculo, assim, as aves podem se mover dentro do sistema em todo o seu comprimento total.

O ninho está localizado no coração do Bolegg Terrace. A cada manhã, as aves descem do poleiro para beber, comer e botar seus ovos. A área do ninho é atraente, confortável e segura, minimizando as chances de postura de ovos em cama. As aves não precisam voar de uma linha para outra. Os corredores abertos permitem:


acesso visual para fácil inspeção;
uma distribuição de luz ideal minimizando ovos de cama;
um ambiente de trabalho agradável;
possibilidade para a limpeza com um mini-carregadeira.
In need of specific solutions?
We can help.

Bas Liebregts
Product Manager
Entre em contacto
Helping customers for 40+ years
We've worked with 300+ farmers and companies, big and small.