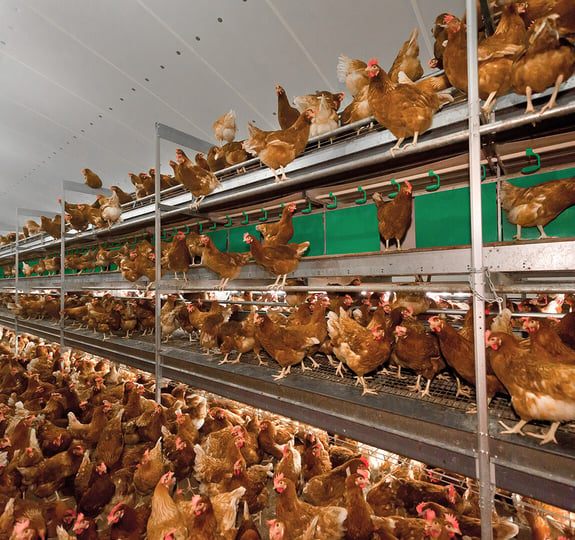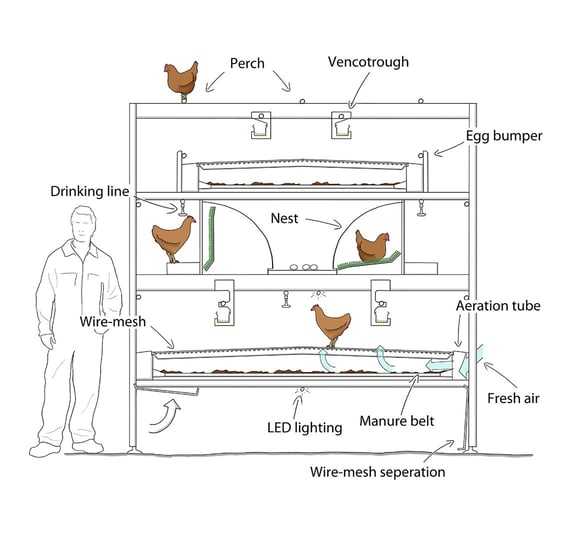 Layer housing solutions
Bolegg Terrace
Depuis le lancement de la volière Bolegg Terrace, plus de 25 millions de volailles de différentes exploitations à travers le monde y ont été logés, ce qui prouve le grand succès de ce produit. Le Bolegg Terrace a été conçu comme un arbre.
Télécharger les spécifications
Système ouvert
Aucun autre système n'est aussi ouvert !
Le positionnement astucieux des perchoirs facilite le déplacement vertical des poules. De plus, les volailles peuvent se déplacer dans le système et sur toute sa longueur sans rencontrer le moindre obstacle.

Les pondoirs sont situés au cœur du Bolegg Terrace. Chaque matin, les poules descendent de leur perchoir pour boire, manger et pondre. Le pondoir attrayant, confortable et sûr, réduit au minimum le nombre d'œufs pondus en dehors du nid.

L'agencement du Bolegg Terrace autorise les animaux à se déplacer uniquement de manière verticale. Les poules n'ont pas besoin de voler d'une section à une autre. Par conséquent, l'agriculteur dispose de larges allées sans obstacles pour se déplacer. Les avantages de cet aménagement sont :
un bon accès visuel facilitant l'inspection;

une répartition optimale de la lumière pour le moins possible d'œufs au sol;

un environnement de travail agréable;

la possibilité de nettoyer avec un mini-chargeur.
In need of specific solutions?
We can help.

Bas Liebregts
Product Manager
Prendre contact
Helping customers for 40+ years
We've worked with 300+ farmers and companies, big and small.