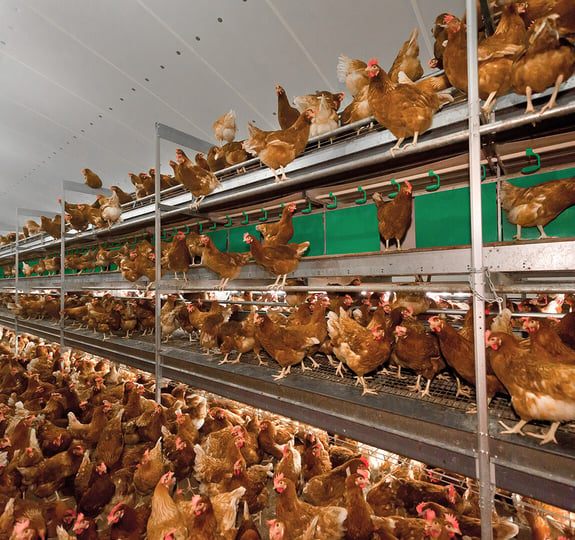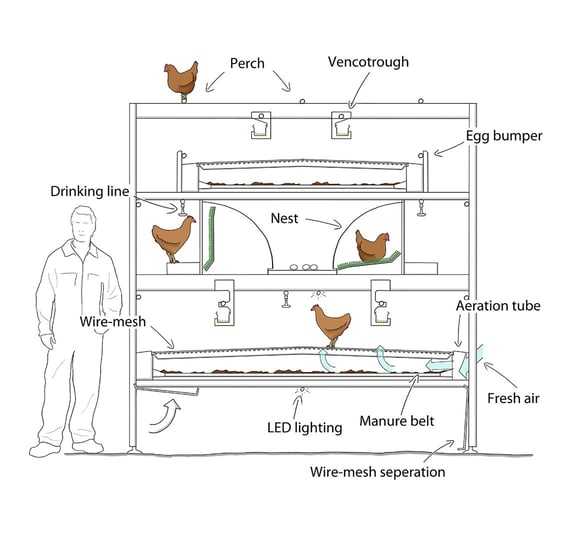 Poultry housing: Bolegg Terrace
Since its introduction over 25 million birds have been housed on the Bolegg Terrace, expressing the great success of this aviary system. The Bolegg Terrace poultry housing is designed like a tree.
Download specification
Open system
No other poultry housing system is as open as the Bolegg Terrace. Together with the smart positioning of the perches, this facilitates vertical movement of the hens. Without encountering any obstacles, hens can move within the system and over its full length.
The nest is located in the heart of the Bolegg Terrace. Every morning hens descend from the perch to drink, eat and lay their eggs. The attractive, comfortable and safe nest area minimises eggs laid outside of the nest.
The layout of the Bolegg Terrace allows for wide and obstacle free corridors, as birds move vertically. They do not need to fly from one row to another. These corridors and the open system enable:
good visual access for easy inspection;
an optimal light distribution minimizing floor eggs;
a pleasant working environment;
possibility for cleaning with a mini loader.
All systems are lighted with LED.
In need of specific poultry housing solutions? We can help.

Bas Liebregts
Product Manager
Contact me
Helping customers for about 40 years
We've worked with thousands of farmers and companies, big and small.