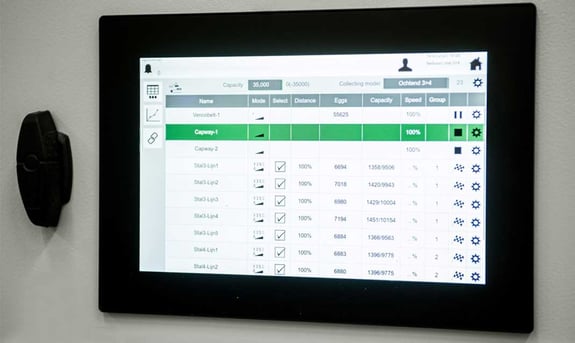 Meggsius Control
The Meggsius Control provides total control over the entire egg flow. In combination with the Meggsius Count a constant automatic egg flow to the packer is realized. You enter the capacity and the system runs automatically.
Download specification
Equal egg flow
There are several possibilities to collect the eggs on a farm, row by row, house by house or morning and afternoon turning. The complete poultry house configuration is programmed in the Meggsius Control with the length of the egg belts and the conveyor belts. This results in a high degree of accurate identification where the egg is laid in the house to determine trends or solve any problems. In other cases it is still possible to use the Meggsius Control to activate individual egg belts or conveyor belts. Each egg line is individually controlled which makes it possible to achieve an 100% equal egg flow.


In need of specific solutions?
We can help.

Dennis Hoeks
Product Manager
Contact me
Helping customers for about 40 years
We've worked with thousands of farmers and companies, big and small.