Visit us and discover how we help you with your challenges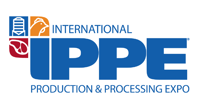 Let's meet at IPPE from 30 January till 1 February 2024!

In today's world, we see an increasing dependency on data. With our Meggsius solutions this isn't something for the future, we can help you right now improving your yield through predictive data analytics.
Also discover more about:
Come and see us at booth B23005 and pre-book an appointment with Vencomatic Group experts.

See you in Atlanta, USA.

Visit IPPE website for more information or view the floor plan here.

Free registration with unique code EX1647.