How a dairy farmer's son gets hooked on poultry. Koen Hoste (44) from Tielt, Belgium, can relate. In 2009, he stepped into his parents' business with 35 dairy cows and 30 hectares of farmland with grassland and maize cultivation. In addition to the existing activities, a new line of business - breeders - is being started. While his wife Annelies still works outside the home, a first house is built for 16,500 hens and males. Right from the start, Koen takes a well-considered and energetic approach to the new branch of the business. He visited colleague poultry farmers, got informed about all possibilities and equipped his new house for broiler breeders with Vencomatic Group systems.
We save a lot of time and the stress is gone
From laying nests to packing line
The first poultry house will be equipped with two rows of laying nests from Van Gent and a unique ventilation concept with an insulated ceiling with inlet valves. Here, air is transported to the litter rooms via valves in the ceiling. The hatching eggs are collected by Prinzen machines. Soon, father and son became passionate about poultry. They also achieve good results with the hens in this house. After one year, they decided to build a second house, again with Van Gent laying nests. A separate males house is built between the two houses. The supplementary males are not placed with the hens until they are truly stage-ready.
Hoste Farm now has three poultry houses with 58,500 hens and males, a separate egg room and a loading quay. The fact that the old cowshed had to make way for this was a difficult and courageous decision. Jokingly, Koen states that everything his father built up is being torn down by him. Meanwhile, Annelies quit her job outside the home and has been working full-time on the farm since 2016. Koen is an entrepreneur who looks ahead and is building the future of his poultry farm. For instance, he leaves no stone unturned to modernise his farm. His poultry farm is highly efficient and almost fully automated. For this, Koen uses several systems of Vencomatic Group. The Van Gent laying nest for the house layout, the Agro Supply heat exchanger for an optimal climate in the houses, the Vencobelt for safe and automated transport of eggs to the egg room and a packing line by Prinzen extended with several Meggsius solutions, for a thorough selection, inspection and packing of the eggs in setter trays and transport carts or paper trays.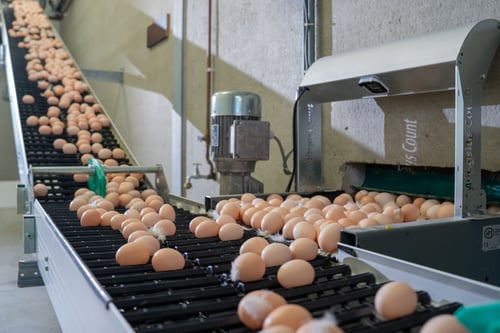 I would not want to miss the Meggsius
Usable data, big time savings and less stress
Since last year, Koen and Annelies' poultry farm has also had the Meggsius Select, which automatically selects second choice eggs by taking 8 individual images of each egg. Moreover, these images, combined with the other insights generated from Meggsius Count & Control, provide even more valuable data. This allows Koen and Annelies to see 24/7 from a distance how many eggs have been laid and their quality. It allows them to react quickly and appropriately to changing situations. Koen: "If we see in the data that fewer eggs are being laid in a certain part of the house, we investigate what we can do about it, such as adjusting the ventilation. Thanks to the data, we have better insight into this. We quickly see what we can improve."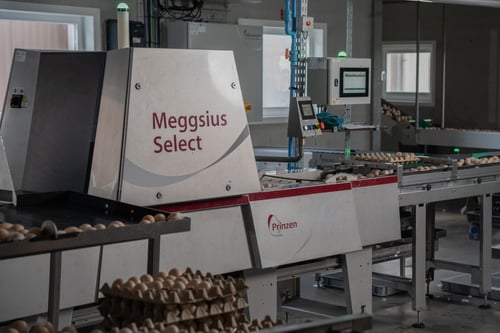 Although Annelies was critical beforehand, the couple is now very satisfied with the Meggsius system. The eggs are automatically counted and checked for quality. In case of a leaking egg, the Meggsius Detect ensures that the system stops immediately, preventing further contamination. "A huge amount of peace has been achieved," says Koen. "We save a lot of time and the stress is also gone. Whether we forgot something, whether the machine was turned on: that caused agitation. These human actions now happen automatically."
In Hoste's houses, the various Meggsius systems work effortlessly together: the Meggsius Select for automatic inspection and selection of eggs, the Meggsius Count & Control for a machinal count and autonomous egg collection, and the Meggsius Detect that signals leaking eggs on the infeed conveyor. Operations previously performed by humans are now done mechanically and in a shorter time frame. The output is more stable and of higher quality by reducing the human factor which, despite passion and commitment, is never flawless.
High-quality hatching eggs
Koen continues to engage in new business, seeking greater insight and efficiency in the business process. Every automation move he has made over the past four years has brought peace of mind and time savings. Koen and Annelies can now easily handle the work just the two of them. Their children Louise (14 years old) and Pierre (12 years old) also occasionally help out when needed. Every morning at the stroke of 20 minutes past 8, the system starts automatically and the eggs 'walk in'. Koen and Annelies keep a monitoring role, supported by the data they can read in. This is how they achieve the high quality hatching eggs they have set themselves as a requirement.
This article previously appeared in Pluimveeweb, from publisher Agrio.