"We transfer our free range method to other farms, also assisting farmers with the sales of free range eggs. Vencomatic Group, together with the local dealer Tohzai Sangyo Boeki, helps us to improve the animal welfare in Japan."
Mr. Mukoyama is Managing Director of Kurofuji Farm, a Japanese layer farm. The farm improves the welfare of the hens: "Currently we are producing 4 types of eggs at our farm: Organic eggs, cage eggs, free range eggs, and free range eggs with herbs mixed into the feed. Kurofuji Farm is also attempting to spread free range farming across Japan."
Can you tell us about your farm?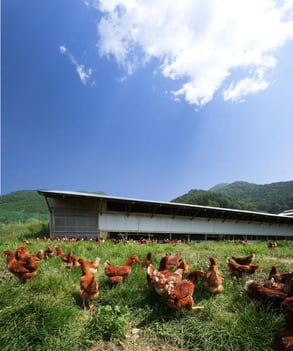 "Kurofuji Farm is a layer farm in the Yamanashi prefecture in Japan. It was established in 1950 by my grandfather, since then we have engaged in poultry farming over three generations. Our farm is located in a mountainous area at an altitude of 1100m, with abundant nature and good quality of water."
"When the farm originally started as 'Mukoyama Farm' in 1950, my grandfather focused on free range farming and rearing. When the farm moved to a new location in 1984, it was renamed to 'Kurofuji Farm', introducing cage systems to house all the birds in cages."
"As organic poultry farming gained more and more popularity in the EU, we responded to it by starting a shift to free range farming in 1990, followed by partially introducing organic production in 2002. We currently have 16 free range houses, out of the 18 houses at our farm. As for the remaining 2 houses, our target is to complete a full conversion into free range within 7 years."
What is your opinion on the Vencomatic Group products?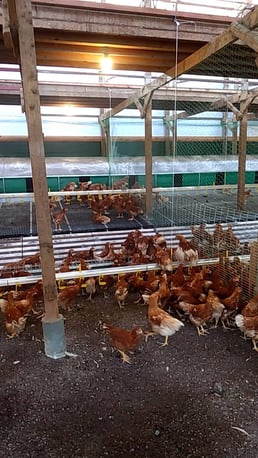 "We are quite satisfied with the Vencomatic sidebelt nest, as it significantly reduced the ratio of mislaid eggs, keeping it at a 2% range in most of the houses since introduction of the system. The Vencomatic nest also reduced the number of broken eggs and cracked eggs."
"We are very happy with the way the Vencomatic nest enhances the hygiene performance by keeping the eggs away from manure, as well as lowering the risk of chickens' pecking their eggs. Overall, we are pleased to have a system with which we can respond to the growing concern regarding animal welfare."