Good for animals, environment and enjoyable for the farmer
Find out how ECO Air Care reduces nitrogen by 90%
Solving nitrogen problem
Can technology help solve the nitrogen problem?
Vencomatic's ECO Air Care system is a unique air treatment system of both incoming and outgoing barn air. It improves the conditions in the barn significantly while at the same time captures up to 90% of the ammonia (and thus nitrogen) from the barn air.
This means that thousands of kilograms of nitrogen can be captured per barn per year. In our first ECO Air Care barn, we capture 7,000 kg of nitrogen per year, enough to offset the construction of a thousand new homes!

Proud that we, together with our partner Wouters Vencotec, won the Dutch Poultry Expo Innovation Award 2023 with the ECO Air Care.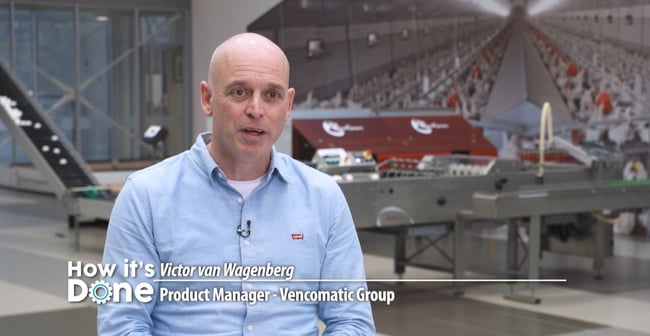 How it's done RTLZ
ECO Air Care
Find out more about ECO Air Care in this film. Our product manager Victor van Wagenberg was interviewed for a Dutch TV program: How it's done. He explains about ECO Air Care, the latest developments and current political challenges in the Dutch agricultural industry.
*Only available in Dutch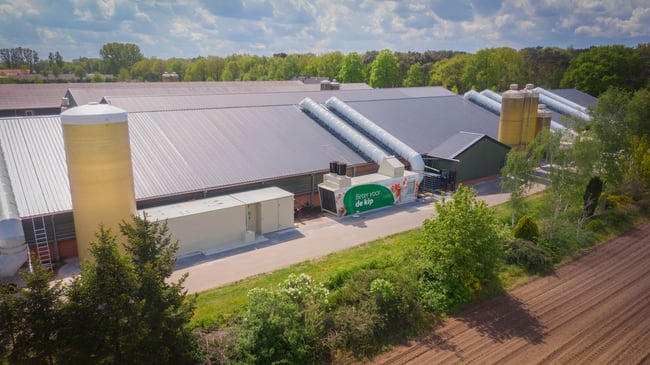 ECO Air Care at Greenfarm Hoogeloon (NL)
Results from the first project with the ECO Air Care system at Ben Beerens' Greenfarm in Hoogeloon (NL), confirm that you can capture thousands of kg of nitrogen per barn per year.
*Only available in Dutch
ECO Air Care
How does the ECO Air Care work?
The ECO Air Care technology ensures that the captured ammonia is converted to a liquid fertilizer substitute, which can be spread on farmland, contributing to circular agriculture.

This ECO Air Care system is equipped with a real-time and continuous measurement system of the nitrogen emission from the barn. Based on this we can prove that more than 90% emission reduction is achieved. The technical operation is also guaranteed by monitoring the amount of fertilizer replacement produced.

Current challenge in the Netherlands
Looking at the Dutch regulations on which present-day environmental permits are still issued are very restrictive, and can be considered outdated. For modern barns regulation should look at with continuous insight into the actual occurring ammonia emissions instead.

Eggs and chicken meat remain a form of valuable protein. However, recent developments in the world show how dependent we are on others (gas, electrical components). When it comes to food production, we should not draw borders around our own country. This may lead to the dismantling of a sustainable and efficient food production system of which livestock farming is a part, but above all we would then move the problem beyond our national borders. Moreover, nitrogen deposition simply does not respect national borders.
Also farmers in neighbouring countries, or even further are faced with rules & regulations regarding emissions. We are happy to help you understand what ECO Air Care could mean in your situation.
Reducing emissions in your barn?
We will help you with your challenge.

Victor van Wagenberg
ECO Air Care specialist
Contact me
Discover ECO Air Care in practice
Read the blogs in which we describe the results achieved in the 2 barns where the ECO Air Care units have been installed
Read more blogs
Read more blogs
Interested in ECO Air Care at your barn?
Our experts are ready to provide you with all the information about the ECO Air Care system and how it can help your farm reduce nitrogen and ensure a perfect barn climate for humans and animals!