Germany, Netherlands 24 May 2023,
Orbem and Vencomatic Group are excited about the fact that a recent study commissioned by the German Federal Ministry of Food and Agriculture (BMEL) confirms that the physiological neural activity of chick embryos does not start before day 13 of incubation – meaning pain cannot be processed before this time. This finding is crucial for animal welfare standards, as it provides scientific evidence to support the planned adjustment to the current German ban on chick culling after day 6 of incubation. German federal cabinet (Bundeskabinett) has decided to draft an aid to adapt the prohibition for ending the incubation process of chick embryos after day 12, as of January 1st, 2024.

Dr. Maria Laparidou, Chief Scientific Officer (CSO) at Orbem, veterinarian, and embryo development expert comments: "The results found in this latest study of pain perception in embryos are confirming that the Genus Focus non-invasive technology is the way forward when it comes to in-ovo sexing in the most animal-friendly way. A perfect match with our mission to develop technology that meets high standards of animal welfare and sustainability."

About a year ago the two companies announced their strategic partnership for Genus Focus: an in-ovo sexing solution that can detect the sex of poultry embryos before day 13 of incubation with MRI & Artificial Intelligence technology. The teams worked intensively to develop and install their modular trolley-to-trolley solution, combining Orbem's Genus Focus technology with a newly developed Prinzen automated egg-handling system, allowing 24,000 eggs per hour to be scanned. Given the proposed adjustment of German regulations to allow in-ovo sexing on day 12 and also after 1. January 2024, the companies expect to soon deliver their first German installation.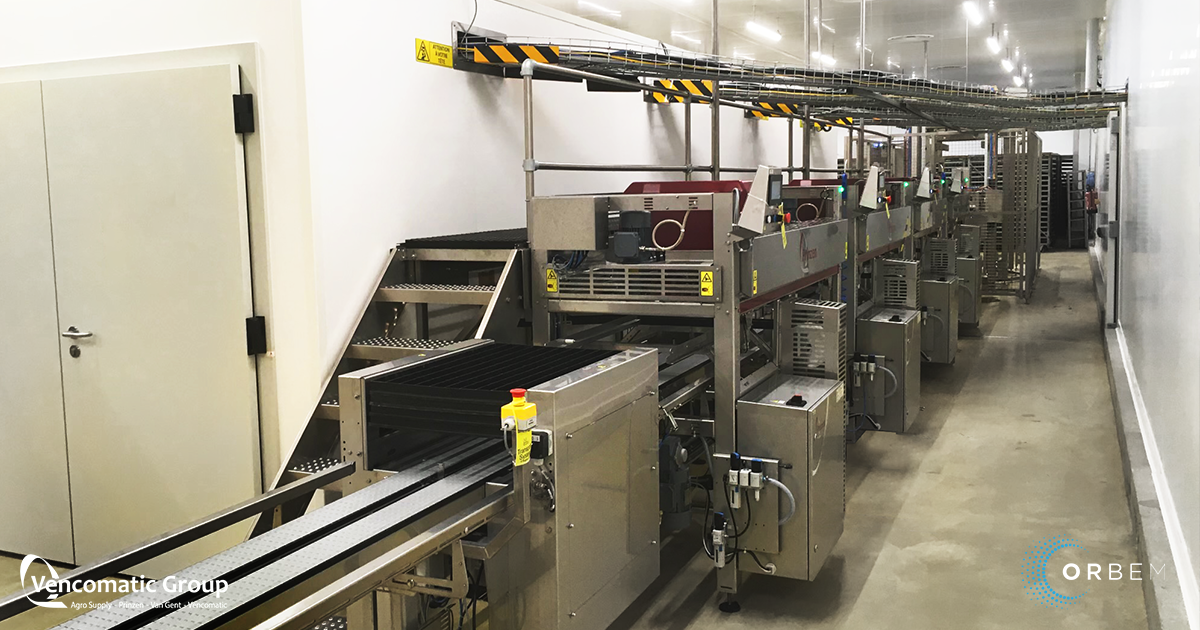 To date, 6 Genus Focus modules are operational at French hatchery customers and already >10 million eggs have been scanned. This combined solution is versatile, accurate, can be utilized on any chicken breed, and does not affect hatchability as it is non-invasive and contactless. Customers are very satisfied with the high degree of automation and efficiency, as only 1 employee is needed to operate the entire process even when multiple modules are used in parallel. Moreover, the flexibility of adding more modules, allows hatcheries to increase their egg-scanning output, keeping up with growing market demand.
Dr. Lotte van de Ven, CEO of Vencomatic Group (VMG) and animal science expert comments: "This pain perception study confirms our belief that Orbem's non-invasive solution is the best option for the poultry sector, for animal welfare and for biosecurity. The adjustments to the German regulation allowing in-ovo sexing up to and including day 12 opens up new opportunities, and not just in Germany but to hatcheries across the globe. We will continue to work closely with Orbem making the introduction of the system to any hatchery as straightforward as possible."
We are excited to guide you through all the options Genus Focus has to offer and demonstrate what results can be achieved in your hatchery. Contact our specialist Jennifer Volz (Business Development Lead Orbem) and Johan Vermeulen (Strategic Business Development VMG) for more information.
Interested to read the full BMEL study click here:
https://www.bmel.de/SharedDocs/Pressemitteilungen/DE/2023/051-verbot-kuekentoeten.html
Orbem is based on years of scientific research at the interface of AI, imaging technology, and embryonic poultry development. Combining next generation MRI, AI acceleration, and computer vision, Orbem develops scanning and classification solutions for poultry and other industries. Headquartered in Munich, the top tier, international, diverse, and multidisciplinary research team is imagining new frontiers every single day to build a healthy and sustainable future.
To learn more about the technology behind the Genus Focus and other applications in the poultry market, please visit Orbem.ai.
Contact Orbem: jennifer.volz@orbem.ai

At Vencomatic Group, we are on a mission to make poultry husbandry sustainable. We seek to balance the operation of a successful business with the lowest possible environmental impact, all while trying to achieve the highest animal welfare levels. We always, develop our products based on a thorough understanding of the bird, her well-being, and her eggs. Our unique solutions are supporting the entire 'Egg Way' for layers, breeders, broilers, and hatcheries. Think of poultry housing equipment (Vencomatic, Van Gent), egg collection and handling equipment (Prinzen), and climate solutions (Agro Supply). And we don't stop there, discover how Meggsius powers precision farming and gives us the opportunity to help our customers even further, reaching the maximum potential out of every bird, every flock every farm.
For more information please visit: www.vencomaticgroup.com
Contact Vencomatic Group: johan.vermeulen@vencomaticgroup.com